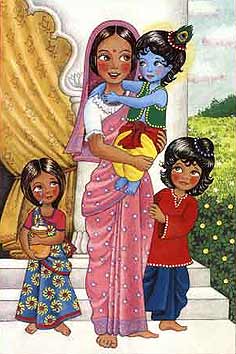 "My sweet child, Gopal, oh my darling boychild,
Seeing your great deed I feel a little strange.
For what am I after all but an earthly woman?
And you're allowing me to hold You in my arms.

"But who are You, my son, our benefactor?
I am prouder of You than any mother could be!
Even if you are God, my darling beautiful son,
Allow my heart to love You as that of a good mother!"

Thus spoke Yashoda, sweet mother of Gopal,
And by speaking this way, she moved the hearts of girls.
Tears rolled down on their cheeks like some freshwater pearls,
So much that they filled up the yoghurt-making jars!

His mother was then embraced gently by the boy,
Yashoda's happiness then turned to endless joy.