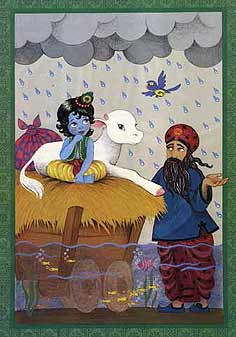 "For the rainy season has now passed away for long,
It is the curse of Indra, that's striking down the land.
This would not normally be the time for frantic showers,
Which are poured down on us by Indra's wrathful powers.

"We herdsmen would implore for his mercy in vain,
Repulsive rage hardens Indra's heart today.
Blue-skinned boychild, golden-sweet Gopal,
We all wish for shelter, the village needs you now!"

Gopal sank into himself.

"How could you work this outrage, how could you, Indra, now?
Would you set the flood upon these innocent folks?
Do you think you are the Lord of the Universe?
Must it hurt your pride so when someone dares deny you?

"I am going to save the people of Vrindavan,
I will set to deeds, for words are of no use now!"