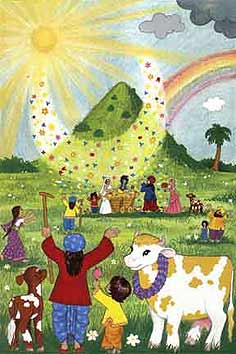 "I desired to rule over beasts and all the people,
When it is just my place to become their guardian.
I rushed on to attack them like a furious flood,
If it weren't for Gopal, it would have been their end!

"All my dark clouds I see as dark thoughts of ugly hate,
Oh, and that hate had to swell up to a bad storm!
'Abate yourself, you winds; quiet down, you tempest!
I'm repenting my deeds, I'd like to make amends!'

"'Shine, you sun, shine boldly, so that no one feels cold!'
No one should be torn by raging, stormy winds!
Let all the fields grow green, let a million flowers bloom,
Let me bring the place back to its old peace and life again!"

When Gopal had witnessed the quieting of the storm,
He put big Govarddhan back into its place.