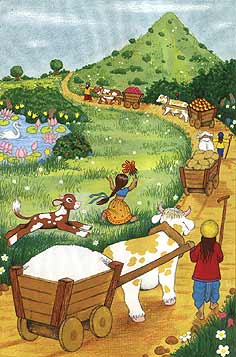 Listening to His words, looking for His favour,
They brought all to Gopal, whatever He wished for,
All that their blessed land produced throughout the year,
They brought it with joy, with warmth in their good hearts.

They brought it by the cartload, to mighty Govarddhan,
All that they had wished to sacrifice to Indra.
Cares were gone long now, sorrow was far away,
For the words of Gopal had a strange charisma.

Before the big carts, oxen were walking slow,
Beside them their masters, singing with their joy.
Calves were jumping beside the caravan of carts,
Children laughed heartily, playing with the flowers.

To the sacrifice they made a great procession,
To Mount Govarddhan, while others prepared food.