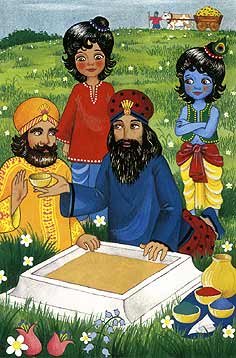 Maharaj Nanda was His mighty father's name,
He was chief of cowherds, herdsmen all the same,
He sacrificed to the lord of rains and showers,
To great Indra-dev of heavenly powers.

Because those good herdsmen had not seen rain for long,
They begged the merciful Raja with such a pleading song:
"Lord Indra, send clouds to quench our thirst and pain,
Parched, thirsty cows are desirous for rain.

"Scorched stumps took the place of lush grass for lack of rain,
Arid, crumbling sands fill the riverbed's domain.
Meagre is the pasture for starving cows and calves,
For rice, for bread, for food, we cannot grow the grain."

While they were in prayer for enlivening water,
Gopal, just arriving, admired the burning altar.