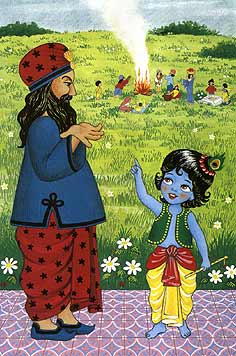 "What is this big fire, why do you cook and bake?"
Watching preparations Gopal asked the herdsmen,
"Why are you giving flowers to the fire?
Fruits of our good land to whom do you sacrifice?"

Nanda, the good father gave Gopal this answer,
Teaching his small son about sacred, ancient lore,
"It was so ordained, back in who knows when:
That lush, grassy Vrindavan to the cows be given.

"Our ancient tradition wishes it in order
That we sacrifice to Indra, pleading for His water!
For wherever life fails to come to flower,
Grey decay will set up its domain forever!"

The child was listening, his understanding wise,
All that His good father said of sacrifice.