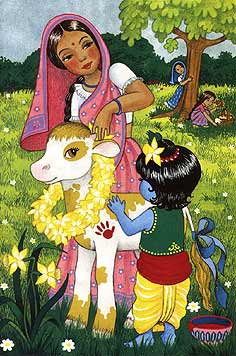 One by one they created fine dishes and drinks,
Every little cow dressed in long garlands of flowers.
All the delicacies stood in a giant pile,
Burning sandal incense breathed perfume in the air.

Gopal decorated the calves all nice and pretty,
Afterwards He Himself conducted the ritual.
Every boy and girl was provided with a task,
Performing good service to their beloved friend.

Nanda's wife, Yashoda, whose eyes were like a doe's,
Smiled with rosy cheeks on the brilliant child:
"How courageous and good is Gopal, my little son,
I suspect the Great Lord in the shape of this small boy.

"But whoever You could be, Gopal, You little holy thing,
Let my heart just love You like that of a mother."