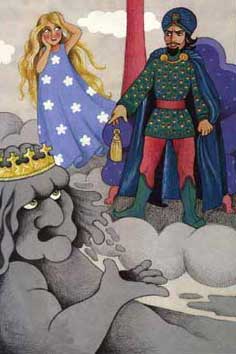 King Samvartaka stirred himself up, trembling,
"I can't resist your order, oh my highest lord,
It hurts me all the same to ravage earthmen's homes
Just because they failed to implore for your blessing!"

Indra, however, interrupted him:

"Gopal fails to respect the ruling of the heavens!
Therefore I'll punish Him any way I like!
They took it seriously, this play-acting with Him;
More so than to implore me, Indra, for my blessing!

"Go at once, you furious hosts of heavy clouds!
I won't have a small child pull such tricks on me!
Cover the whole sky, bury the Sun in your wake,
No stone should be left unturned in Vrindavan!"

The servant flew at once away with a whizzing,
Because he did nor dare break orders from Indra.