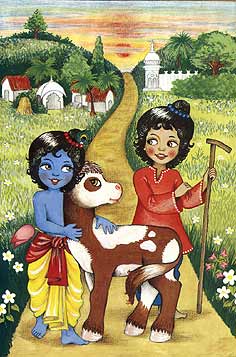 Like a bright gold button on a flowery green gown,
On Yamuna's banks lies Vrindavan's little town.
As the pretty lotus is the king of ponds and lakes,
Indra was the king of thoughts, thinking and words.

There lived a little boy, Gopal was His name,
Making friends with calves was His favourite game.
They also called Him Shyama, He went by that name, too,
For the colour of His skin was ultramarine blue.

When in the sky the Sun rolled up his golden carriage,
Dried up all the dewdrops, awakening the morning,
Gopal and His brother, Balarama, freshly
Went out to the meadow to see the hungry calves.

He lived there among herdsmen, and all His friends were near,
He had a grand purpose, you will shortly hear!