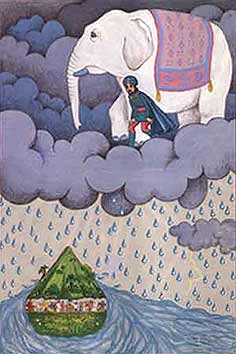 Indra, during this time, witnessing this power,
Stopped dead in his tracks due to his sheer wonder.
"How could this be a dream all that I can see?
Who are You, You boychild, that curses spare You so?

"I have sent the wild winds to finish off these lands,
A severe punishment on the heads of herdsmen.
No one could resist me, ever in this wide world,
Who is this above me, to work such alien wonders?

"Such a giant mountain rests on a boy's pinkie!"
Indra meditated on the cause of his rage.
"Are these folks really wrong, if such powers can guard them?
Will my anger prove to undo all my kingship?"

All the clouds then vanished, and the sun appeared, clearing up;
Love and peace reigned again, as the law of the land.