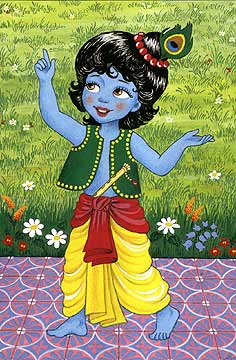 "So," mused the noble child well known for His good heart,
"Good herdsmen, My people, does Indra make you tremble?
To this proud lord of the sky I shall give an answer,
His words are hardened from much luxury and power.

"Herdsmen!" He called, "Should we all depend from Indra:
From his good or bad moods, fearing from his vengeance?
Take a look at that mount over Vrindavan!
Could it be destroyed with any kind of clouds?

"Let us devote ourselves to Govarddhan instead
Indra thinks he is lord of skies and earth alike,
When he is filled with anger and loses his head,
He becomes most stupid, for he is infected by pride.

"Forget furious Indra, sacrifice to the mount,
Let us venerate through that the mighty Vishnu."