---
All glories to Sri Guru and Sri Gauranga
19th World Tour visit to London
of
Srila Bhakti Sundar Govinda Dev-Goswami Maharaj
Ratnavali Devi Dasi and Jaya Shree Devi Dasi reflect upon Srila Gurudev's recent visit.
---
Dear Devotees,
Please accept our dandavat pranams!
We'll try to start off where Mukunda Prabhu left off, but please forgive us if the quality isn't the same.
On Sunday Srila Gurudev was up and giving his mercy as usual. It was Sadananda Prabhu's birthday, so that evening he invited Srila Gurudev and all the devotees over to his new house for Prasadam. He is an optician, as Mukunda Prabhu reported, and had Srila Gurudev's new glasses ready. After we all had a lovely walk around he presented Srila Gurudev with his new specs. They are frameless, photosensitive, titanium, Hugo Boss bifocals, and they look wonderful on him. Some of the devotees were saying that they look as though they have always been his. You can see his face a lot more now. Hopefully there will be some photos posted soon. Sadananda Prabhu's mother Ishwari Didi and his wife Krpa Didi had made a beautiful Gujarati style feast for everyone. So after taking Prasadam we all followed Srila Gurudev back to the Temple quite happy.
Monday
After Monday morning darshan, Gurudev visited the new home of Saraswati Didi and Aditi Nandana Prabhu, and took breakfast there. The morning's menu had a very international theme, with home baked croissants, Venezuelan corn bread and herbal chai amongst other dishes. Around fifty devotees accompanied Gurudev on this visit. Gurudev had a little tour of their home and even young Vira Chandra's pet rabbit, named 'Ki Jai'!, was blessed by having a moment's darshan with Guru Maharaj. Gurudev then stayed for an hour and a half before returning to the Temple.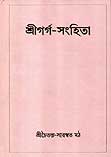 During an ever-packed evening darshan Sripad Swarupananda Prabhu and Mrs Ena Chakrabharty paid their respects to Guru Maharaj. The visits were very special, as it marked the completion and publication of the highly anticipated Sri Garga Samhita, which they so dedicatedly worked to produce. Guru Maharaj was overjoyed at seeing the finished works and stated that whenever he opens Sri Garga Samhita he becomes completely captivated and absorbed by it and totally unaware of his environment.
Tuesday
Tuesday lunch-time Prasadam was yet another sumptuous feast prepared with devotion and the culinary expertise of Divya Sari Didi and Danda Karanya Prabhu. The preparations were also a success due to the entourage of devotees who tirelessly chopped, cleaned and washed the dishes and kitchen. The feast was in honour of Damodar Prabhu's grandmother who passed away recently. Damodar Prabhu talked to Gurudev about his Grandmother, and Gurudev instructed him to offer some Maha Prasadam to her, something which Damodar Prabhu was more than happy to do.
Also on Tuesday the children really wanted to do something for Gurudev. So, a few days before, Srilekha Didi had written a play for them to perform for him. She wrote of the Pastime of Lord Krishna stealing butter and the deliverance of Nalakuvera and Manigriva. They did a really sweet performance for His Divine grace in the afternoon. There were monkeys and Gopis, and they even managed to fell trees, with only a little giggling. It was really wonderful to see all the younger devotees from the tiny monkey three-year-olds to the 19-year-old arjun trees doing service for their Gurudev! At the end they all offered pushpanjali and gave their dandavat pranams. It was a very beautiful afternoon.
Wednesday
Wednesday morning was the day that all the devotees avoided thinking about -- the day Gurudev would be leaving. The morning was eventful and spontaneous as ever, as the brother of Lalita Krishna Prabhu took initiation amongst all the leaving preparations. Gurudev and his entourage left the Temple at around 6:30 am heading for Gatwick airport, followed by the usual frenzy of devotees canvassing for spaces in cars and trying to estimate how many devotees can fit into a single vehicle without the tyres giving way.
Srila Guru Maharaj reached the airport at around 8 o'clock. At the airport a young Colombian girl met by chance with Gurudev and inadvertently became the spokesperson for the devotees, and helped to arrange a wheelchair for Gurudev. She also bore the brunt of the Airport officials' telling off, as they were perturbed by the mass of devotees who had congregated around Gurudev. They thought she was his daughter and dealt with her directly for all the official matters. She was a very fortunate person who was able to engage in some service, and Gurudev personally invited her to visit Nabadwip.
It was very sad to see Gurudev leave.
When Gurudev arrived he brought sunshine and warmth to the Temple and lives of the devotees, as well as beautiful summer weather for Britain. As Gurudev was leaving the weather very much reflected the moods of the devotees as the skies became grey and it began to rain. Everyone consoled each other and prayed for the safe and comfortable journey of our dearest and most loved Guru Maharaj.
Whenever Gurudev blesses us with his presence he brings along with him so many devotees who again and again show us what it means to be devoted. We pray for the opportunity to serve such servants of our Gurudev! We are left with beautiful memories and are ever grateful for the opportunity to serve Guru and the Vaishnavas. Dandavat pranams from us both!
Jay Om Vishnupada Srila Bhakti Sundar Govinda Dev-Goswami Maharaj ki jay!
Your Servants,
Ratnavali Devi Dasi and Jaya Shree Devi Dasi
London
---
---
---