All Glories to Sri Sri Guru Gauranga
19th World Tour Dispatch
by Prabhu Mukunda
London Saturday 27th July.
I must first apologise for the lack of news, and I hope I can make up for it by trying to write a little here.
It is now 7.45 p.m. and His Divine Grace is about to take his Prasadam. Another glorious day draws to an end, but we have tomorrow to look forward to. So until then I shall go back a couple of days. On Thursday morning Srila Maharaj had an appointment at the opticians owned and run by one of his disciples, Prabhu Sadananda. I am happy to say his eyes are fine, but His Divine Grace is having new glasses. They are, I am told, going to be frameless and custom made — so expect a picture soon....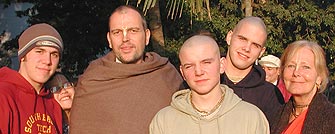 Mukunda Prabhu (2nd from left) with
his extended family, except for Sebi.
Srila Govinda Maharaj had a good rest until 4 p.m. when he came into his front room to a packed house of devotees from all over the world: Italy, Germany, Holland, Ireland, Bosnia, Croatia, Switzerland, Greece, Denmark, Norway, Sweden, Malaysia, U.S.A., Brazil, Venezuela, Australia, New Zealand, India, and of course the U.K. Needless to say, not everyone fits into Srila Maharaj's front room, but all are happy to stand in the hall waiting for a turn to go in. With so many devotees you'd think Srila Maharaj gets no time to himself. Not so. Everyone respects Maharaj's time, and know rest is his best medicine, and are happy to wait to take his darshan.
On Friday morning the parents of Jamuna Priya Didi (Srila Maharaj's private secretary accompanying His Divine Grace on the Tour) came to meet with His Divine Grace. Gurudev was extremely affectionate toward them, and they happily took Prasadam with him at his request. Srila Maharaj was so happy, and made sure everyone present had enough to eat, personally checking everyone's plates. Prabhu Uddharan gained some extra mercy, being personally served from Gurudev's lotus hands.
Jamuna Priya's mother and father left happily. Prabhu Srutasrava told them her position could be compared to being the private secretary to the Pope, but much higher.
Saturday has been busy, with Srila Maharaj giving seven Hari-Nama-diksha initiations, mostly to children, and seven Gayatri-diksha initiations. The fire yajna was carried out by His Holiness Sripad Bhakti Sudhir Goswami Maharaj and Prabhu Devashis. All went well and our Math is still standing, we just have a grey ceiling instead of the original white!!
I shall try and write a little something on Tuesday. I would like just to say how happy and well our Gurudev is. I was a little worried another World Tour at this time would tax his health, but seeing how well all the devotees have been respecting his timetable as opposed to their own, he has been able to rest, making this visit quite unique.
His Divine Grace Sri Srila Bhakti Sundar Govinda Dev-Goswami Maharaj, KI JAY!

---
---
---