All glories to Sri Guru and Sri Gauranga

A Newsletter for the Devotees of the
Sri Chaitanya Saraswat Math in the UK
---
25 July, updated 2 August 2002:
London dispatches of the current World Tour of
Srila Bhakti Sundar Govinda Dev-Goswami Maharaj

---
24 July 2002:
Preaching article by Sripad Bhakti Swarup Tridandi Maharaj

---
23 July 2002:
Safe arrival in London Sri Chaitanya Saraswat Math of
Srila Bhakti Sundar Govinda Dev-Goswami Maharaj

We are happy to announce that Srila Gurudev arrived safely here in his London Ashram, on schedule yesterday afternoon. On arrival at the Green Street Math, His Divine Grace spoke briefly with the devotees before honouring Prasadam. He then had a good night's rest and met this morning with devotees from several different parts of the world.
---
22 June 2002:
Proposed London Visit
by Srila Gurudev
With Srila Gurudev's more consistent improved health, His Divine Grace has graciously accepted invitations to London this summer. The dates of his visit are becoming more settled and are likely to be: London Sri Chaitanya Saraswat Math: 23 - 30 July 2002. Srila Gurudev is then due to be in Russia until approximately 18 August.
For further information and updates kindly see the Math's 'World Tours' webpage.
For details and local information of the U.K. section of the Tour, kindly contact Prabhu Devashis. Regarding accommodation and transport for pilgrims converging on London for this occasion, please see the 'Accommodation for Pilgrims' page researched and compiled by Prabhu Kanai Lala.
In addition for those looking for a short or long term service opportunity in London, you are invited to read this following article.
May the Lord and His Own grant their gracious glance....
---
12 June 2002:
Historic Service Opportunity
A special appeal by Prabhu Devashis Adhikari
Secretary, London Sri Chaitanya Saraswat Math
My Dear Godbrothers and Sisters and devoted followers of Sri Srila Bhakti Sundar Govinda Dev-Goswami Maharaj, my obeisances to you all.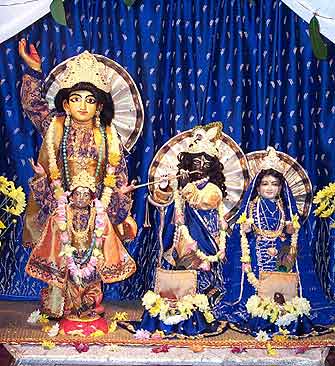 Their Lordships Sri Sri Guru-Gauranga-Radha-Shyamasundar at our London Sri Chaitanya Saraswat Math.
Many of you know me, and I pray for the grace of you all upon this lowly soul. For those who don't know me, my name is Devashis Das, I am a disciple of Sri Srila Bhakti Rakshak Sridhar Dev-Goswami Maharaj and aspiring servitor of Sri Srila Bhakti Sundar Govinda Dev-Goswami Maharaj. For the past few years I have been trying to serve our Gurudev as the Secretary of the London branch of the Sri Chaitanya Saraswat Math. By the affection and dedication of my beloved Godbrothers and Godsisters here, our Math is a small but beautiful haven of service where the worship of Sri Sri Guru-Gauranga-Radha-Shyamasundar goes on daily with the Maha Sankirttan yajna as taught to us by Sriman Mahaprabhu in the line of Sri Rupa Saraswati.
I am writing today as an appeal to all of you gentle Vaishnavas to please try and help me to fulfil the long cherished desire of our beloved Srila Govinda Maharaj to establish an eternal living monument to the teachings of Srila Sridhar Maharaj in the form of a grand centre of Sri Chaitanya Saraswat Math in London. We have had an established centre in London since 1983 at various locations and I am privileged to have had some small service connection since that time. Currently our centre is at 466 Green Street in East London, but the fact remains that it is very small, and it is the desire of Srila Govinda Maharaj that a larger centre be established.
Of course everyone would like a temple or centre in their own local area and in London we are no different. We all desire somewhere that our children and their children can come to worship and serve. Everyone has their provincial interest and from one point of view this is also a provincial cause. But there is another more universal cause that this service represents. The establishment of a substantial centre in London is the wish and order of Srila Sridhar Maharaj and he considered this to be his own personal service. Srila Bhaktisiddhanta Saraswati Thakur wanted Srila Sridhar Maharaj to preach in London and for this reason Srila Guru Maharaj's desire is to establish a centre of Sri Chaitanya Saraswat Math in London. Outside of India no math or centre was mentioned in the Last Will and Testament of Srila Sridhar Maharaj except for London. And on more than one occasion I heard Srila Sridhar Maharaj say that he considered his London Math as another room in his Nabadwip Math. Now Srila Guru Maharaj's Divine Servitor, Srila Govinda Maharaj naturally has that same desire to establish a grand centre in London for the eternal glory and service of Srila Guru Maharaj. He has requested me that within his lifetime he wants to see this important service manifest.
Everyone knows that I am very unqualified and fallen, and so it is my prayer to you all that somehow you will please help me to satisfy our beloved Master. By the grace of the devotees of Hari anything is possible. I believe this to be true.
All the devotees associated with our London Math are very fine, honourable and dedicated but they are few and our task is very great. Already we have come a long way but we need so much more. Can you help?

Can you give some of your energy to this noble cause? We need manpower and we need money. We need fund raisers, we need preachers, we need cooks and we need pujaris. We need anyone who can give their time and effort for this great sacrifice. And it is and will be sacrifice, joyful sacrifice. The personal service of Srila Bhakti Rakshak Sridhar Dev-Goswami is no small matter. We cannot offer you any remuneration for your service; no financial incentives, but we can offer you the company of good devotees, sumptuous Maha Prasadam and the satisfaction of knowing you helped make the desire of our Divine Masters a reality. I know you will get the unlimited blessings of Srila Govinda Maharaj if you join in this campaign. If you are a single man or single woman and want to serve with us then we can accommodate you. Come and help us for six months, a year, two years or even longer. We need you, and perhaps you need this opportunity. Of course married devotees are also welcome and we will try to give you all facility if you are really interested to help. And even if you can't come and join with us then give your blessings and well wishes to us (also large donations in any currency will be joyfully received!!!)
I know that you will not take any offence by my plea, oh gentle devotees, and I pray always for your merciful favour. We are desperate to fulfil the desire of our Guardians and desperate men do desperate things so please look on this man's act of desperation with grace and with serious reflection.
I beg to remain
A Vaishnava's servant's servant
(Secretary, London Sri Chaitanya Saraswat Math)
12 June 2002 -- festival day of Sri Sri Guru-Gauranga-Radha-Madana-Mohanjiu, Calcutta
---
---