All glories to Sri Guru and Sri Gauranga
Sri Chaitanya Saraswat Math affiliated centre: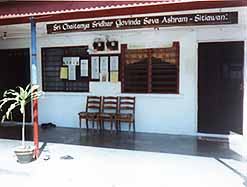 Sri Chaitanya Sridhar Govinda Seva Ashram, Sitiawan represents Sri Chaitanya Saraswat Math in the north of Malaysia. Under the guidance of His Divine Grace Srila Bhakti Sundar Govinda Dev-Goswami Maharaj, this centre is run by a group of mainly grihasta devotees headed by Prabhu Tribhuvanath Adhikari. It is a very sweet ashram where the Lord is worshipped according to a daily programme based on the programme at the main Nabadwip Temple. The Ashram has a fully air-conditioned and carpeted spiritual library "Sri Gaudiya Darshan" open 7 p.m. to 10 p.m. daily.