Date: Fri, 5 Aug 2003 12:34:09 +0200 (CEST)
From: Janaki Vallabha Das,
Govardhan Sri Chaitanya Saraswat Math
Subject: Govardhan news
---


All glories to Sri Guru and Sri Gauranga

Thanks to the sweet will of Om Vishnupad Paramahamsa Srila Bhakti Sundar Govinda Dev-Goswami Maharaj, today I am still here under the most safe shelter at the shade of the lotus feet of Sri Guru and Sri Sri Anu Giriraj.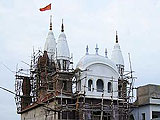 Sri Sri Anu Giriraj's Temple has now manifested almost to its full form, reminding us of a castle, but this is a transcendental castle, and it has come from the heart and genius of Srila Gurudev, Srila Bhakti Sundar Govinda Maharaj.

At every corner of the temple roof a 'tower' has been erected, the front two have already been completed and painted white, and the rear two are still in progress.

The Mandir dome elegantly seems to touch the sky and at the top the flag flutters sweetly, waiting for the imminent arrival of the five feet diameter chakra. At the bottom of the main dome, a smaller 'mridanga' dome is on each corner. Today the fourth and final dome will be completed.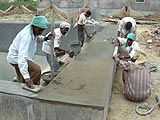 To the left of the Temple there is a beautiful kunda. Today the steps will be rendered with cement and everything will be completed.

Finally painting works have been started outside the new Seva Ashram building. The first coat of white cement primer is being applied.

What to say more? Everything is so beautiful and fits perfectly in the beautiful environment of Sri Govardhan.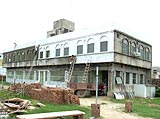 Here at Chintamani Dham in the beautiful Srila Sridhar Swami Seva Ashram everywhere we can 'see' and 'feel' how much love and attention Srila Bhakti Sundar Govinda Maharaj has invested for the satisfaction of Srila Guru Maharaj's desire. In addition he is giving to his world-wide devotee family the opportunity to come and do some service in such a special 'Home Comfort' environment.

Only His Divine Grace could do such inconceivable things here. Thank you Gurudev!

The servant of the servant of the servant,
The most fallen, Janaki Vallabha das
(of Italy, serving in Govardhan)